---
Storm Home - Products - Mods - Specs - Research - Blog - History - Links - RTR Policies


Forged Pistons
After learning that I would need overbore pistons, and then learning that ISUZU Japan was all out, and every Lotus service shop only had stock bore I would need to get a set of custom forged pistons.
This is where I learned that these will single handedly cost the most out of everything I have done to the car at the time. . .
So, I called around to get some average prices: I decided to go with ROSS because of the wait time (4-5 weeks at the time). I talked with George@Ross, and he also upsold me on a couple upgrades.

9.35:1CR flat top with valve reliefs
.030" Overbore (0.762mm)
Ross Racing Molly rings ($75 extra)
4340 Chrome Moly Tapered Pins($22each extra)
Reinforced pin bridge($27 extra)
Turnaround time in 2 weeks.
If you want to order some Forged pistons from me, check out this link. I can get them cheaper with any compression ratio and overbore you want, and my pistons have the upgrades built into them.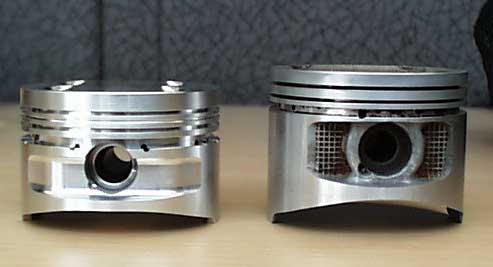 ---

All contents are Copyright © 2019 .
All Rights Reserved. All trademarks are ownership of their respective holders.