---
Storm Home - Products - Mods - Specs - Research - Blog - History - Links - RTR Policies


Phenolic Spacer Gaskets
Heat is bad, Phenolic is Cool!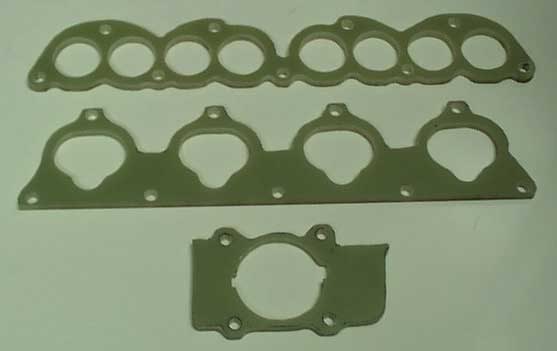 these are 3/8" (8mm)thick G11 Glass-epoxy Phenolic intake spacer gaskets. . .
A total pain in the ass to make: melted scroll saw blades, warped dremel bits, and the worst part, glass epoxy everywhere after sanding and cutting.
I originally got the idea from an AutoSpeed article
Test Fit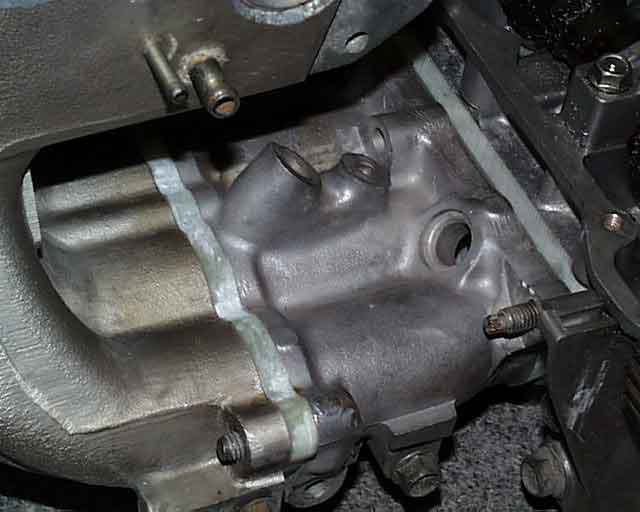 With the two phenolic spacer gaskets in place, the intake runners are now 3/4'' longer.
All types of Phenolics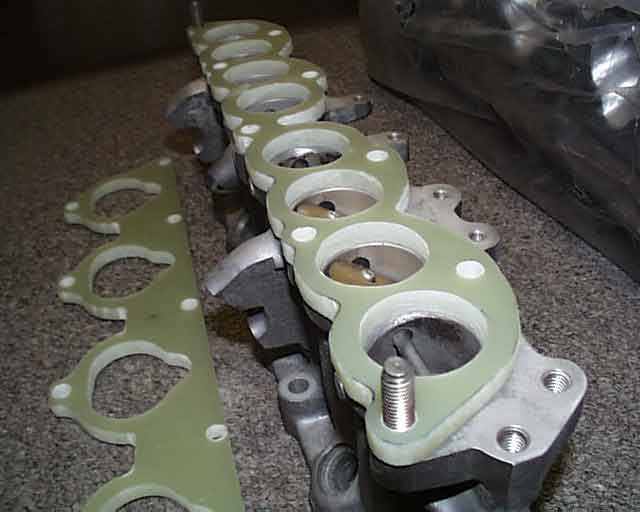 Phenolics are thermoset resin impregnated reinforcing materials (paper, cotton fabric, glass fabric, etc.) that are cured under heat and pressure to form solid shapes having high mechanical and electrical insulating properties. High pressure laminates, as a group, are often inaccurately referred to as "phenolics" due to the wide use of phenolic resin reinforced grades such as paper/phenolic and fabric/phenolic. Actually, many other resin systems are employed including epoxy, melamine, and silicone.
Phenolic Laminates are made by applying heat and pressure to layers of paper, canvas, linen or glass cloth impregnated with synthetic thermosetting resins. When heat and pressure are applied to the layers, a chemical reaction (polymerization) transforms the separate layers into a single laminated material with a "set" shape that cannot be softened again -- therefore, these materials are called "Thermosets". A variety of resin types and cloth materials can be used to manufacture thermoset laminates with a range of mechanical, thermal, and electrical properties.
Physical strength, resiliency, ease and versatility of fabrication, and excellent electrical properties make Phenolic Laminates useful as support components in a wide range of mechanical and electrical applications. Phenolic Laminates are strong, stiff, and have high impact and compressive strengths. And, they do not soften upon re-heating, so they are easy to saw, drill, tap, and machine with ordinary tools. "FR" grades are flame retardant.
Glass-based grades have the highest dimensional stability and mechanical strength, as well as low moisture absorption. However, they are not as easily machined as paper or cotton fabric laminates.

There many are different grades(in no particular order):
G-11: Mil-I-24768/3 --Glass cloth with epoxy resin. Higher heat resistance then G-10.
G-10/FR-4: Mil-I-24768/27 --Flame retarded glass epoxy laminate.
G-9: Mil-I-24768/1 --Glass cloth impregnated with a melamine resin.
G-7: Mil-I-24768/17 --Glass cloth impregnated with a sili