Storm Home - Products - Mods - Specs - Research - Blog - History - Links - RTR Policies


Porting the Head, Intake assembly and Exhaust
Intake Head Porting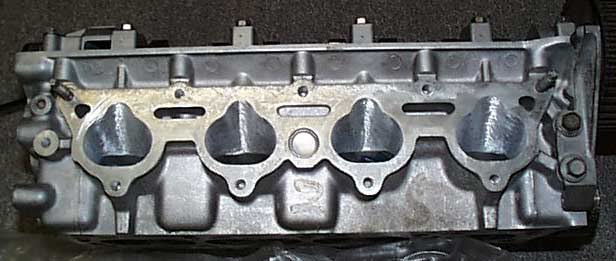 I gasket-matched the head, intake assembly and Exhaust. It took a long time to complete-about 30-45 minutes per port on the head alone.
I took measurements with a digital caliper so that I could be as close as possible since I didn't have a flowbench available. Here are the measurements before and after for the intake:
Wide x High
Before: 48.41mm x 44.45mm 48.24mm x 44.62mm 48.48mm x 43.80mm 48.25mm x 43.94mm
After: 50.11mm x 46.16mm 50.05mm x 46.12mm 50.10mm x 46.21mm 50.09mm x 46.16mm
Exhaust Head Porting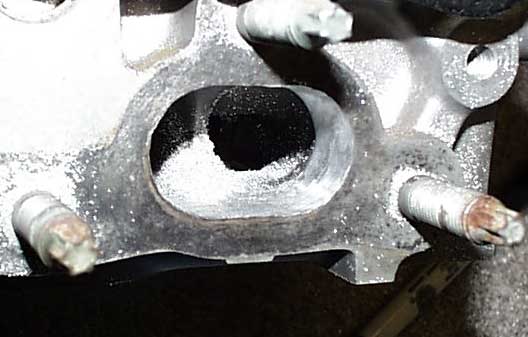 For some reason, I only took one measurement before I started porting the exhaust side:
Before: 24.26mm high x 40.03mm wide New measurements on all holes:
26.22mm x 43.07mm 26.15mm x 43.11mm 26.25mm x 43.17mm 26.14mm x 43.17mm
Intake Secondary Porting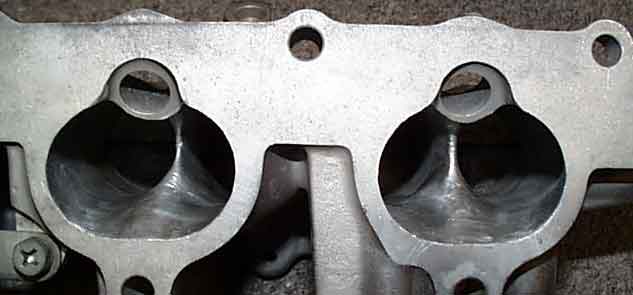 The secondary intake assembly is the bottleneck. The ports on the head side are around 2mm smaller than the head ports are. I ended up removing around 5mm of material just to get it port matched with the new head porting.
Wide x High
Before: 45.46mm x 43.20mm 45.58mm x 43.27mm 45.75mm x 43.58mm 45.74mm x 43.73mm
After: 50.26mm x 46.65mm 50.51mm x 46.60mm 50.46mm x 46.57mm 50.26mm x 47.24mm
Exhaust Manifold, Turbine Housing and Wastegate
I opened up the exhaust manifold ~2mm per port to match the head ports. Porting the manifold was tougher do to it being Steel.
That goes for the Turbine housing aswell. I opened it up ~2mm for a total of 46.61mm, and the wastegate openning ~1mm for a final of 18.06mm.