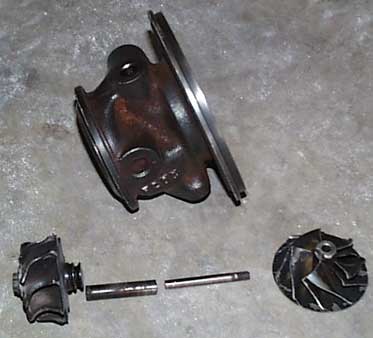 After finding all of the parts that were left of the stock IHI RHB5 turbo from the RS, I needed to get it repaired or replaced. The turbo shaft had broken in half, and also broken clean off of the turbine. I started calling around and found out that it would cost me a minimum of $800 just to get it repaired and rebuilt, or $1900 to replace(and the local Isuzu dealer- McCloskey Isuzu - actually had one in stock!). I was starting to get discouraged at that point, as my cheap find was gonna start adding up.

Well, I started doing research and educating myself about turbo technology and learned that I really only needed was a replacement Turbo Cartridge instead of the whole turbo. I found out that IHI made turbos for many cars in the '88-95 years, so it was just a matter of finding out which ones used the same cartridge.
My list grew into many possibilities:
IHI- Warner-Ishi (VF119011), RHB5 (also known as vf10), RHB51, RHB52:

90-91 Ford Probe GT
87-91 Mazda MX-6 GT
90-91 Mazda 323 GT
90-91 Mazda 626 GT
90-91 Mazda RX7
90-94 Subaru Legacy Turbo
87-89 Ford Thunderbird Turbo-Coupe(.48 Trim)(Pre '87 came w/ Garrett T03(.60 Trim))
87-89 Mercury Merkur XR4Ti
84-86 Ford Escort
??-?? Ford Laser, Capri
??-?? Fiat Spyder, Ferrari GTO, Delorean
I called around to a bunch of places to get some prices. . .they all averaged around $300-a lot better than $800!!!
Then I did a search on Ebay and found them pretty darn cheap. I got 3 turbos in excelent shape-all for less than $150 each. One of the turbos that I got was from the Ford T-bird Turbocoupe, I discovered that it has a larger compressor wheel (.48 trim)--WhooHoo! The Ford Turbo was capable of 381CFM whereas the stock RS turbo is only capable or 200CFM. I disassembled the Turbine housing from the turbo, then took my housing and bolted it right on. . .it was a perfect fit. No machining needed!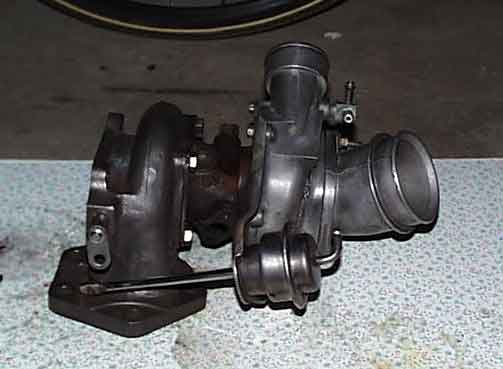 Note: To get the turbine housing off, you may need to use a propane torch. Heat up the Turbine housing evenly-not the center cartridge- for abour 5 minutes, The idea is to expand the turbine housing without expanding the cartridge inside. Tap it lightly with a hammer and it will slide right off. Make sure you disconnect the Wastegate actuator first, so that it doesn't get in the way.

Warner-ISHI RHB5 Specs:
Air Flow Rate: 1.4 - 10.8m3/min // 49.4 - 381.4ft3/min
Max Pressure Ratio: 2.8
Maximum Speed: 180 x103rpm
Max Allowable Gas Temp: 9500C // 1742oF
Diesel Engine Application: 54-154Ps
Gasoline Engine Application: 73-208Ps