---
Storm Home - Products - Mods - Specs - Research - Blog - History - Links - RTR Policies


Turbo Modifications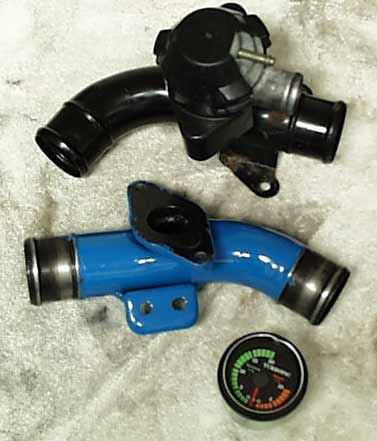 With the upgraded turbo, and the custom plumbing to make it all work, the stock RS bypass valve just isn't going to make the cut. After many hours of research(I love that!), I found that the best(IMO) blow off valve (BOV) that you can get for the money is a 1st Generation Turbo Eclipse/Laser/Talon/DSM BOV. It can safely handle up to 20psi without leaking. I first picked up a flange adapter pipe, planning on getting the BOV later, but got the whole assembly later for $50.


Here is a shot of the BOV mounted, you can see that it is tucked away behind the intercooler, with the openning facing down.
What is a Blowoff valve?
A blowoff valve(BOV),bypass valve, (Dump Valve in the UK) is a device that keeps the turbo from coming to a stop or spinning backwards once you let off the gas pedal. When you let off the pedal, the throttle body shuts, and the turbo is still spinning, creating boost. The pressure in the charge pipe in between the turbo and the throttle body pressurizes-and with no exhaust to keep the turbo spinning in the same direction, the pressure pushes back on the compressor, causing compressor surge - it to come to a stop extremely fast(150,000RPMs to 0 RPMs in one second) or even start spinning backwards(backspin)-this is very bad for a turbo as it can prematurely cause wear on the bearings, or even worse, snap the shaft.
This is where the BOV saves the day. The BOV is placed in between the throttle body and the turbo. With the throttle body closed, a vacuum is created in the intake manifold/plenum. The BOV is piped directly to the plenum, and the vacuum actually sucks the BOV open, with the inside pressure pushing it open at the same time, which releases the pressure in the charge pipe. An added benifit is that the BOV actually keeps the turbo spinning at a higher speed-which decreases spoolup time and turbo 'lag'.

---

All contents are Copyright © 2019 .
All Rights Reserved. All trademarks are ownership of their respective holders.