---
Storm Home - Products - Mods - Specs - Research - Blog - History - Links - RTR Policies


Storm Suspension Modifications Page 1 Page 2 Page 3
Geo Storm Coilovers!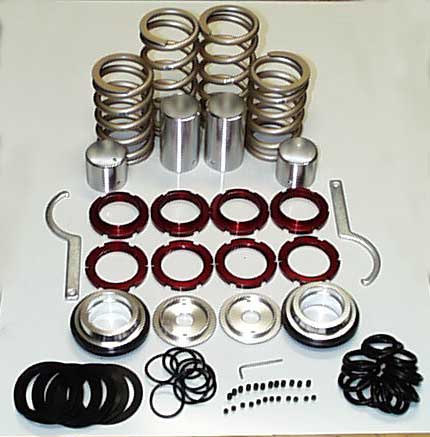 Well, I took a look at the Honda Civic coilovers and thought that they were too small and most came with Urathane hats, and I didn't feel like grinding my struts or any other parts just to make them fit, so after mixing and matching Coilover parts and contacting a manufacturer, I finally got all of the pieces that work!
UPDATE:It looks like some people have had to grind down/remove the top hat of their struts-mainly the rear struts. Very easy to do as it only takes about 2 minutes with a grinder. The other option is to just remove the top hat of the strut. Just hit it with a hammer and it comes right off.


Front



Rear
Here is a picture of the Coilover assembly. It took about 15 minutes to install them on each front tire. The minimum drop is 1 inch, and the max is 3 inches in the front. The minimum drop in the rear is 1" with 4" drop max. The spring rate is 450lbs for the front and 350lbs for the rear.
After the test drive, the handling is very stiff, but it feels very nice around turns. If you are looking for a soft ride, these are not for you. These are Performance handling only.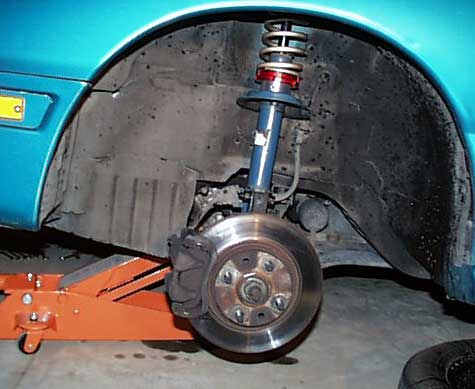 This is what it looks like installed.
Want to buy a set? CLICK HERE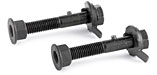 Eibach camber alignment kit - $24 at www.tirerack.com
Here are the preliminary Installation Instructions if you want to see how easy they are to install-Well, I think it was easy :-P
I will continue to clean up the formatting as it is pretty bad, but the pictures are clear and the text is easy to understand.
Coilover Technical Description
These springs are hot rolled using alloy spring steel, heat treated, stress relieved, pre-set, Epoxy/enamel painted. The spring rate is 450 lbs. for the front, and 350 lbs. in the rear. Hot rolling produces a spring with a consistent grain structure that is extremely resilient and will not deform or change rate. The combination of hot rolling and using only the highest quality alloy wire results in a spring with superior performance and ride characteristics. For increased strength, the spring perches are machined from hot forged AL6061-T6. These kits allow you to adjust your ride height anytime you want. The front system allows up to a 3" drop, and the rear allows up to a 4" drop. They provide more suspension travel and therefore will ride better than a normal lowering spring, even at extremely low settings.

---

All contents are Copyright © 2019 .
All Rights Reserved. All trademarks are ownership of their respective holders.