Storm Home - Products - Mods - Specs - Research - Blog - History - Links - RTR Policies


Storm Suspension Modifications Page 2 Page 1 Page 3
These strut tower bars Help control frame twist associated with uni-body construction. For better handling performance, this greatly strengthens corner speeds and minimizes understeer due to chassis flex.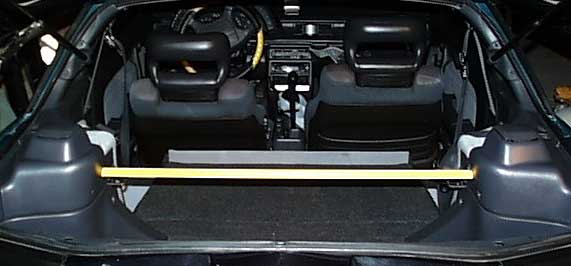 Handling Difference?
You bet there is! When you start taking turns, there is a point where you expect the body to roll a little, and it doesn't.. .it is kinda a spooky feeling the first couple times, as you expect the front & rear end of the car to start skidding out from under you, but it doesn't, talk about the slot-car feeling!
I wasn't expecting that much of a difference with this mod, but was very supprised on the difference that it makes in the turns. The front of the car no longer tilts like crazy when going around turns at higher speeds.
These are made from 3/16" thick, 7/8" diameter blackened steel pipe, not cheap Conduit like a couple others have been making them out of. They are painted with 3 coats of primer, 4 coats of enamel paint, and 3 coats of Clearcoat.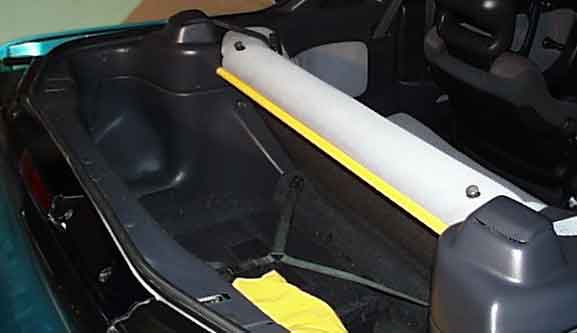 This is what it looks like installed with the rear seat up-no problems at all, and a very clean appearance. They are more difficult to install, but I have the pattern that you need to cut out of your interior to make them fit-kinda spooky if you are uneasy about taking a dremmel to your interior plastics
:-D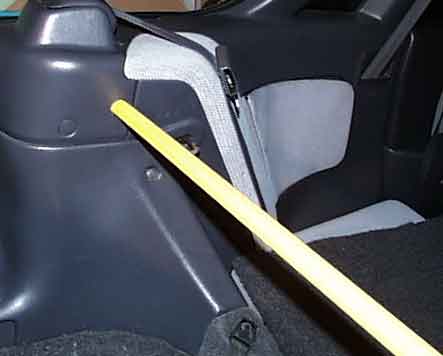 If you order one, I also send you a template so you can cut a clean hole in the plastic the first time!